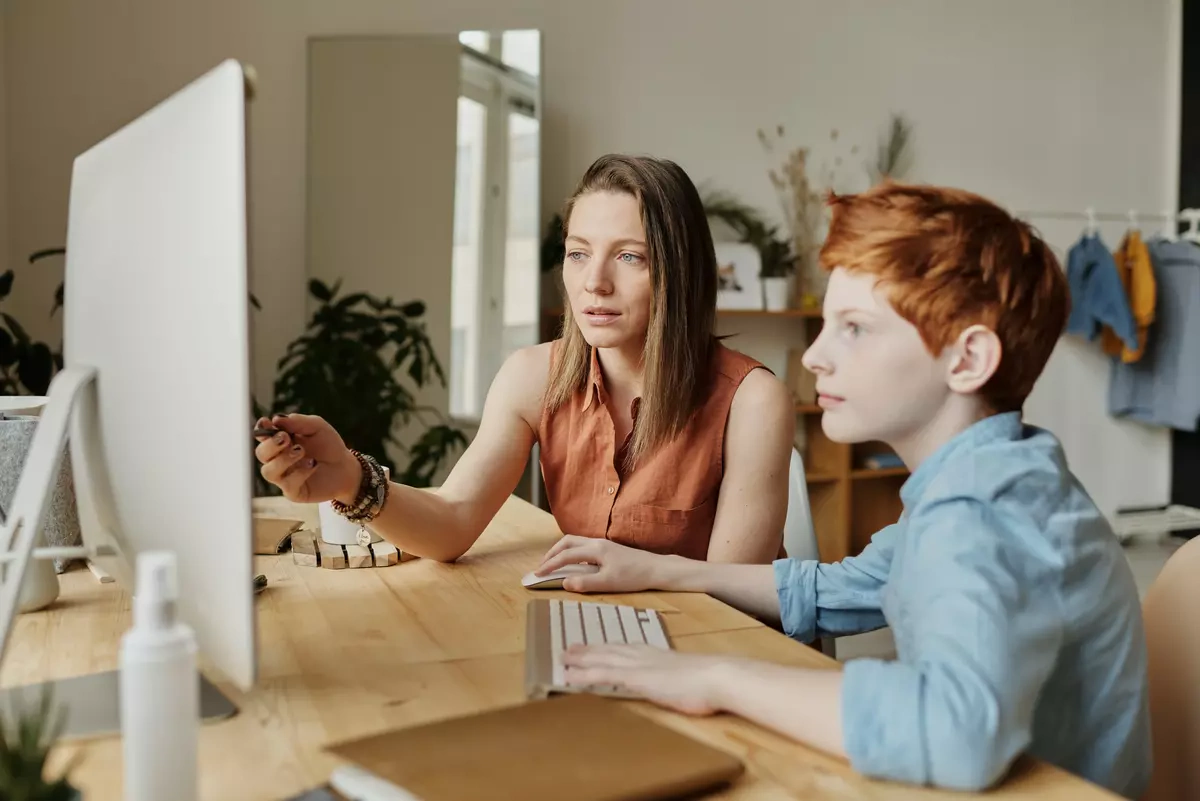 Tutoring starts with you!
By offering personalized tutoring, we can help you achieve your goals in a way that is tailored to your needs.
Reducing Frustration
We recognize the frustration that can arise from subpar instruction or inadequate resources. Our tutors are top-tier students who have aced the very classes you're in, often with the same professors. They empathize with your struggles and are equipped to help you navigate through them. Whether you're on the verge of giving up or simply want to reduce your study time, Schwartz Tutoring is here to transform your learning experience.
Developing Understanding
At Schwartz Tutoring, we prioritize fostering a deep understanding of concepts over rote memorization. Our approach is designed to make you feel as if you are discovering the concept for the first time, using interactive examples and relatable analogies. We aim to ignite your curiosity and guide you from intuitive understanding to formal definition, crystallizing your knowledge in a way that is self-evident and unforgettable.
Increasing Prosperity
We understand that academic success is a stepping stone to financial prosperity. Our tutoring in math, science, and business not only boosts your GPA but also equips you with foundational concepts that will serve you in the real world. Investing in tutoring today can lead to a lifetime of dividends, enhancing your lifetime earnings and future opportunities. Whether you are aiming for a high-paying job or a prestigious grad school, Schwartz Tutoring is committed to helping you excel.
Tutoring starts with you!
Our primary aim is to help you develop a deeper understanding of your subjects, reduce the frustration often associated with learning complex concepts, and increase your potential for future prosperity. We work to understand your unique learning style and academic objectives in order to craft a strategic plan tailored to your success.
Whether your aspirations are broad and long term, or focused on overcoming immediate challenges such as prepping for the next test, trust in Schwartz Tutoring to be your committed partner in achieving your goals.
Learn more about our values here
Tutoring starts with you!

Specializing in math, science, and business, our tutors have successfully guided thousands of students on their educational journey.
Our Offerings
Use the power of the Schwartz to ace your course! Whether you need help with math, science, business, or any other subject, we offer tutoring at all levels, from K-12 to college. Our tutors have been there, done that, and aced the classes you're taking, so you can trust they're well-versed in the material. Additionally, we believe that the existing education system is not adapting quickly enough regarding artificial intelligence which is why we are releasing our own course called Gen AI.
Math
Science
English
History
Language
Test Prep
College Prep
Studying
Organization
Time Management
Our Pricing
At Schwartz Tutoring, we strive to strike a balance between affordability for our students and fair compensation for our top-performing tutors. We acknowledge the value of quality tutoring, and therefore, we have developed a pricing structure that reflects the high standard of service we provide while remaining considerate of your budget.
Don't see a pricing option that fits your needs? We also have bulk discounts if you want to schedule multiple hours. Check out our pricing page for more information.
Individual Tutoring
$42.00
/hr
30 min sessions include a $3.00 scheduling fee, book an hour or more to have this waived
One on one tutoring provides the most personalized experience, and allows us to tailor our tutoring to your specific goals.
Sign In to Get Started
1 Person Session
Just you in a session
2 Person Session
You and 1 other person in a session
3 Person Session
You and 2 other people in a session
4 Person Session
You and 3 other people in a session
Have a question?
Tutoring can be a little scary (or very scary). Rest assured, we are here to help you. If you have any questions, please do not hesitate to reach out to us below.
I am not sure if I can afford tutoring
Reach out to us and we will work with you to find a solution that works for you.
Do you offer what I need?
We have a wide range of tutors that can help you with a variety of subjects. If you do not see what you are looking for, please reach out to us and we will do our best to find a tutor for you.
I need to cram for a test
Don't worry, we have you covered. We can help you get ready for your test in a short amount of time, even less than 24 hours.
Contact
Feel free to reach out to any of the following people for any questions or concerns.
---
---
---
---